MARK YOUR CALENDARS
The 6th annual Keep on Climbing (formerly Kilimanjaro Golf Fore Kids) Golf Tournament will be held at Manderley on the Green in Ottawa at noon on August 22.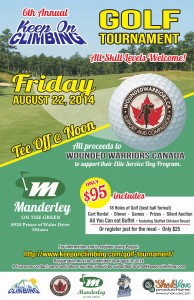 All proceeds will be directed to Wounded Warriors Canada, which is a non-profit organization that helps Canadian Forces members – be they full time or reservists – who have been wounded or injured in their service to Canada.
Specifically, the funds will help the Elite Service Dog Program whereby dogs are trained to operate with veterans suffering with Post-Traumatic Stress Disorder. This program has made an incredible impact in the lives of our service men and women in their struggles with mental health.
Wounded Warriors works with Courageous Companions to provide trained dogs for veterans suffering from PTSD. Check out the video.
Registration Deadline is August 8, 2014
18 holes of golf, golf cart rental, dinner, games and prizes – $95
Dinner only – $25.
We hope you will mark the date on your calendar so you can join us to have some fun on the golf course and benefit a very worthy cause at the same time.
More details to follow. Register by using Paypal at:
SILENT AUCTION/PRIZES:
Rinaldo's – Gift Certificate
Boxing Canada – Ear buds, smart phone armband
Ken Nolan Woodworking – Adirondack Chairs
Pearle Vision – Ray Ban Sunglasses & glass cleaner
Michelle Ethier – Frosted glass sectional tray
Denise Vanopdenbosch – Acrylic paintings
Jerome Photography – family and children's portrait session
Carole Mackenzie – pink and black golf bag
Golf Town – gift certificates
Sandy Maveety – Take a Paws doggy daycare
Mavis Mason – four passes to play at Golf Manitou at Mont-Tremblant
Manderley Golf Course – Four rounds of golf
HOLE SPONSORS:
The Dagley Family – Longest Drive competition
Laura Finlay,Sales Representative, Re/Max
OTHER SPONSORS:
VOLUNTEERS:
Ron Melanson – Hole sponsor signs
Maggie Melanson – Registration desk
Evelyn Finlay – Registration desk
Leona Crumpler – Sales