The 8th annual Keep on Climbing (formerly Kilimanjaro Golf Fore Kids) Golf Tournament for Wounded Warriors will be held at Manderley on the Green in Ottawa at noon on Tuesday, August 9.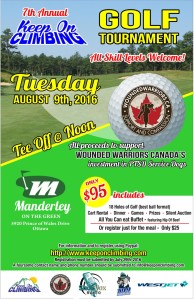 All proceeds will be directed to Wounded Warriors Canada, which is a non-profit organization that helps Canadian Forces members – be they full-time or reservists – who have been wounded or injured in their service to Canada.
Specifically, the funds will help fund Wounded Warriors Canada's investment in PTSD Service Dog Programs across the country. The dogs are trained to work with veterans suffering with Post-Traumatic Stress Disorder. This program has made an incredible impact in the lives of our service men and women in their struggles with mental health.
Here's what TSN football analyst and former Saskatchewan Roughrider, Glen Suitor, has to say: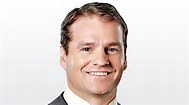 "I am a huge supporter of our men and women in the Forces so I would encourage you to come out to the 8th annual Keep On Climbing Golf Tournament for Wounded Warriors on August 9 at Manderley on the Green. By doing so, you can have a great time while helping to raise money for elite service dog programs to assist veterans suffering from PTSD."
Registration Deadline is July 29, 2016
18 holes of golf, golf cart rental, dinner, games and prizes – $95
Dinner only – $25 – Dinner is a buffet style featuring hip of beef.
We hope you will mark the date on your calendar so you can join us to have some fun on the golf course and benefit a very worthy cause at the same time.
SPONSORSHIP:
Platinum Sponsorship – $1,000
Includes:
Two foursomes, including golf, cart and dinner
1 hole sponsor sign
Option to put up a kiosk at the course (size and location subject to approval by course management)
Option to display a banner (size and location subject to approval by course management)
$165 tax receipt
Gold Sponsorship – $500
Includes:
One foursome, including golf, cart and dinner
1 hole sponsor sign
Option to put up a kiosk at the course (size and location subject to approval by course management)
$45 tax receipt
Silver Sponsorship – $300
Includes:
Two golfers, including golf, cart and dinner
1 hole sponsor sign
Option to display a banner (size and location subject to approval by course management)
$35 tax receipt
Bronze Sponsorship – $75
REGISTRATION:
There are two ways to register:
Make a cheque payable to KEEP ON CLIMBING and mail to 121 Baroness Dr., Nepean, ON. K2G 6Z2 (Please include the names of the players) OR
By Paypal (If paying by PayPal, please send the players names to info@keeponclimbing.com)
SILENT AUCTION ITEMS:
Flight for two anywhere WestJet flies – WestJet
Lawn maintenance for 2017 – Nutrilawn
Child car – Otto's BMW
Gift card – Metro
Jabulani Winery Wine Tour
Family photographic session – Jerome Photography
Children's photographic session – Jerome Photography
Gift basket – Tammy's Nails, Smiths Falls
Ryca Women's Training shoes sized to fit – Jasper Fitness, Smiths Falls
Krown rust protection application – Cotter's Auto Shop
Gift basket – Beau's Brewery
Ryobi drill bit set – Home Depot
Memberships for Executive Golf (2) – New members only
Hair cut and style – Rinaldos
Gift basket – Shoppers Drug Mart
2 massage seat warmers – Jim Bear
Glass cleaning kits – Pearl Vision
Bottle of Glenfiddich Original Single Malt and Scottish Shortbread – OuiDram
Golf shirt – Debbie Harbridge
Ray Ban Sunglasses – Pearl Vision
BBQ set – Carolyn Mackenzie
Gift basket – Michael Qaqish, Ottawa City Councillor
Gift basket – Shoppers Drug Mart
HOLE SPONSORS:
Jan Harder, Councillor
Meta-Business Advantage (2)
Chris Finlay, CA
Jabulani Winery
Co-operators
Back in Balance
Enercare
Nexus
Surgenor, Barrhaven
Real Deal House Cleaning
Dagley Family
PROMOTION:
DAWG FM – promo
Executive Golf – Rounds of golf & promo
Glen Suitor
SPECIAL THANKS TO:
Robin Chu, Photographer
ShokVox Productions – poster design
Ron Melanson – Hole sponsor signs
Pearl Vision
Debbie Harbridge
Bran Palic and the Orleans Dental Clinic
Trish Barlow
Sandy Maveety
Gord and Leona Crumpler
Manderley on the Green staff
Randy Fitzpatrick and Petit Bill's
George and Melanie McDonald
Barrhaven Legion
Kelly Santini, LLP
Carol Mackenzie
Joyce Ellard Gagnon